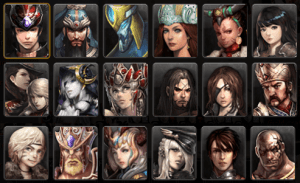 This guide is specific to Atlantica Global, when players first rush into it; this will become outdated after the first 3 or so months into Global.
The 'rankings' we'll be going by aren't how powerful or useful the mercenaries are, alone; it's heavily influenced by the limited scope of choice (4 mercs) that you have. Some players will focus on PVE, some PVP (FL), and some with a bit of both, so I'll give a number/ranking based on such.
Ranking 1 (Best) – to – 6 (Worst). A reminder that you will have a total of 4 choices/these summon orbs.
1: You probably really want to get this merc.
2: Most likely going to get them at some point.
3: Wouldn't recommend picking them, but not a bad choice.
4: Are you sure you want to pick this one? There's better choices.
5: You're literally memeing at this point.
6: No.
Rin – Puppeteer (PVE/1-PVP/3) – Quite useful, specifically because of her AP skill, which gives a full turn over with 50~150 AP in PVE. Can also be useful in PVP for niche/clutch purposes. Super important mid-to-late game, as some mains will rely on her to do a ton of damage, through just recycling AP.
Additional Notes/Feedback:

An added edit (to the below comment/image)–Dragon's Treasure Chest will also be available in mentor/mentee quest rewards.